Professional WBS Creator
Simplify your complex projects, dividing them into manageable chunks with a robust GanttPRO WBS creator.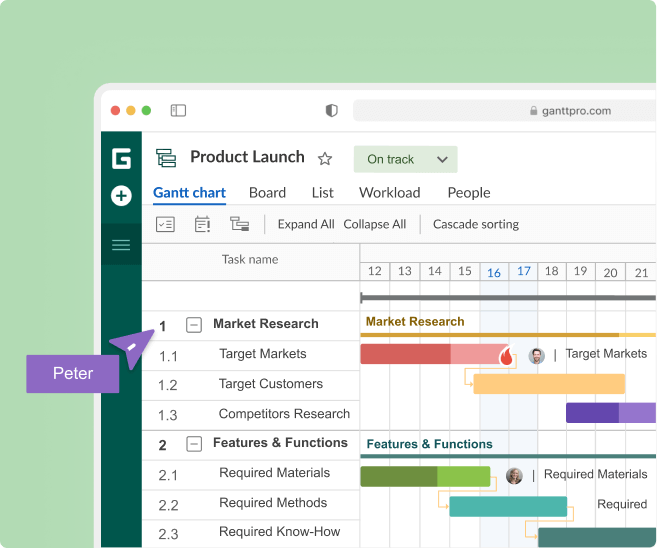 Try for free
Get free 14-day trial to premium features. No credit card required.
Join 800K+ professionals who rely on the online WBS creator
GanttPRO WBS creator's features for advanced project management
Task management

Use our WBS online creator to break down your large projects into more manageable tasks and subtasks with further nesting. The drag and drop feature will help you set concrete deliverables and measurable milestones.

GanttPRO WBS creator has an intuitive interface and provides 24/7 access to all your data, making task management a pleasant process.

Dependencies

Care about your project logic by visualizing the relationships between tasks and subtasks with the dependency feature.

Tracking

Take your task planning and scheduling to the professional level with the help of our WBS creator online.

Follow your project progress and accomplish it in a timely manner.

Collaboration

Apply the advanced features of our work breakdown structure creator to enhance collaboration within and outside your team.

No need to switch between different tools as all your data is stored in GanttPRO. Comment on tasks, attach files, and check any update within your project effortlessly.

Workload

Keep your team's workload under control and be sure that everyone in your company performs well.

GanttPRO WBS creator will let you reallocate team members in accordance with their workload and provide them with meaningful tasks for their motivation.

Budget

GanttPRO WBS creator allows for smooth work with budgets.

Get the calculated cost of your project based on the cost of tasks and resources. Make instant changes once something goes wrong. You'll need just a few seconds to get a clear picture.

Export

In GanttPRO, you can export your WBS using the formats like PDF, PNG, XLSX, and XML.

Take advantage of the public URL feature to share your projects and provide the stakeholders with the rights to view and access them. It'll be especially helpful during presentations.

Import

Use GanttPRO functionality to import a WBS from MS Project or other creators like Excel or tools like JIRA Cloud Software.

Just a couple of clicks will help you bring your projects from these tools and enjoy the powerful features of GanttPRO work breakdown structure creator.
How to create a WBS in GanttPRO
Create your project

Give your new project a life with the help of an online Gantt chart, keeping in mind all your objectives and goals.

In our WBS creator, you can plan your initiatives for a month, year, or any time frame you desire.

Add parent tasks and subtasks with their dates

Divide all functional parts of your project into smaller chunks to keep things organized and maintain hierarchy. Fill your Gantt chart with as many tasks as needed. If you have complex activities, our online WBS diagram creator will assist in dividing them into subtasks with further nesting.

Add due dates, attach files, track progress, estimate budget, and set priorities to avoid chaos and work on what is most important.

Connect with dependencies and add milestones

Create logical relationships between your project activities. Using the task dependency feature, you'll be able to establish connection with a particular order for the tasks that need to be performed.

Key deliverables in the form of milestones will help you track your project progress and measure the performance of the entire team.

Assign tasks

It's easy to assign tasks to any of your team members in GanttPRO. Tasks can be also assigned to a single resource or a group of resources.

Use our WBS chart creator to define costs and manage budgets as well.

Export and share

GanttPRO offers an advanced Export feature. Try it to transit your tasks in Excel, PNG, PDF, or XML formats.

Share your projects with all stakeholders who are not even registered in GanttPRO using a public URL. Use this option of our online work breakdown structure creator to empower your presentations.
Try WBS creator
Award-winning online WBS creator by leading business software review platforms