A robust online project management tool that simplifies project planning
A robust online project management tool that
simplifies
project planning
team collaboration
workflows
GanttPRO is your smart way to keep complex online projects simple.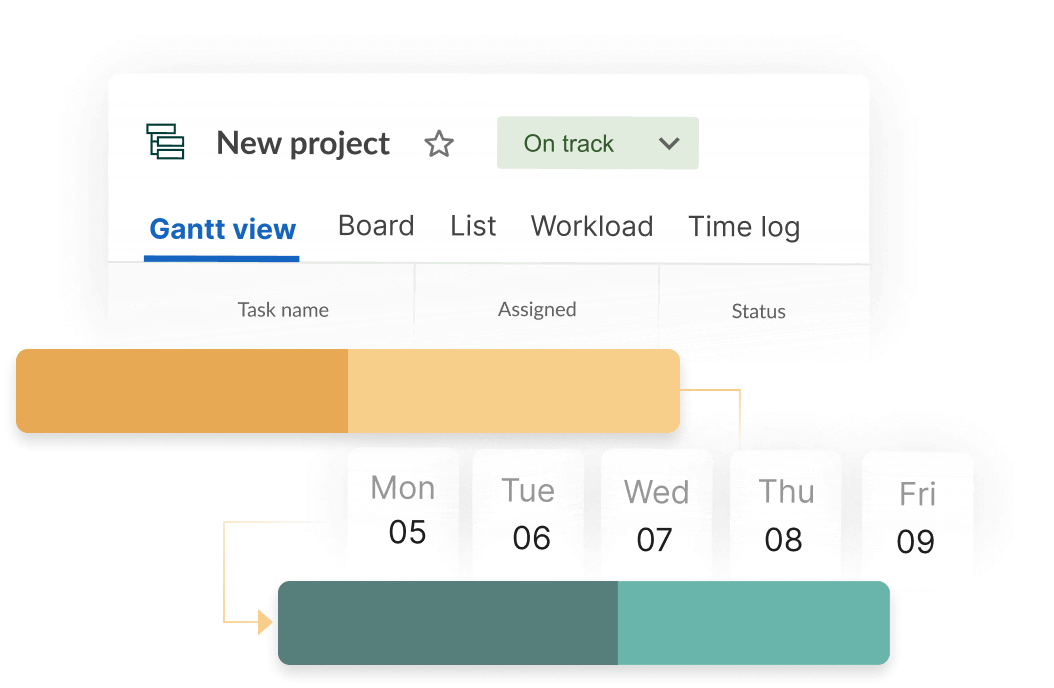 Start free trial
Get free 14-day trial to premium features. No credit card required
You're in a good company
Join 800,000+ happy project managers worldwide who are already using GanttPRO.
Achieve your best results in project management
Try GanttPRO for free to see the difference:
45%

Time saved on management & planning

50%

Rise in teamwork efficiency

75%

Less missed
deadlines

36%

Expenses saved on project management
Aggregated figures based on reports received from GanttPRO users
Features of GanttPRO. From a simple Gantt chart to complex project management
Workload

Check your team's workload and be sure whether someone in your company is underperforming or, vice versa, has too many tasks.

In GanttPRO project management software, it is easy to reallocate team members according to their workload and keep them motivated by providing with meaningful tasks.

Board view

Do you need new opportunities to view your projects and timelines apart from a Gantt chart? In GanttPRO, you can switch to a board view where each task is presented as a card in a relevant column. Our Gantt chart tool gives you possibilities to choose the most convenient way to work on your projects.

Collaboration

Work with your team with the help of our project collaboration software. Comment on tasks and attach files to them - there is no need to switch between different business tools as all important information is stored in GanttPRO.

Notifications

You never miss a thing with real-time notifications. Whether you have a new assignment or are mentioned in a task, your team member has made a change in a project or your task will start in an hour - you will be covered with notifications.

Task relations

Thanks to the Auto Scheduling feature, you don't need to worry if there are changes in dates and timelines of your tasks or in dependencies between them - GanttPRO online Gantt chart maker will recalculate everything automatically.

With the Critical Path on, you'll be aware of all the tasks that directly impact your project. Also, it shows the shortest way to complete your project plan.

Export

Share your chart with anyone using a secret public URL and providing with rights to view and access your plan. It's the easiest way to show your project right away.

The export function allows you to always have your project at hand. Export your timeline even on a trial to the most popular formats like PDF, PNG, XLSX, and XML.

Time logs

Log the actual time you spend on tasks and milestones and, if needed, leave comments. Personal time log allows seeing the total time spent on tasks and time ranges. In one place, you get crucial information: tasks, dates, projects they refer to as well as time and comments.

Reports

Owners and Admins can create reports with the time logged by their team members. Reports contain details about tasks, projects, users, date, time, and comments. This information can be grouped, filtered, and even exported to Excel.
Сreate account for free
ROI Calculator
Organization details
*These calculations are based on the average savings reported by GanttPRO customers: 10 minutes per day for each team member and 5 minutes per day per project for each manager.
Top-rated project management software by leading business software review platforms