Best product roadmap tool. Easily build roadmaps in just a few clicks
Best product roadmap tool.
Easily build
Collaborate on live
Create custom
roadmaps in just a few clicks
Your smart way to plan and organize work with a robust product roadmap visualization tool.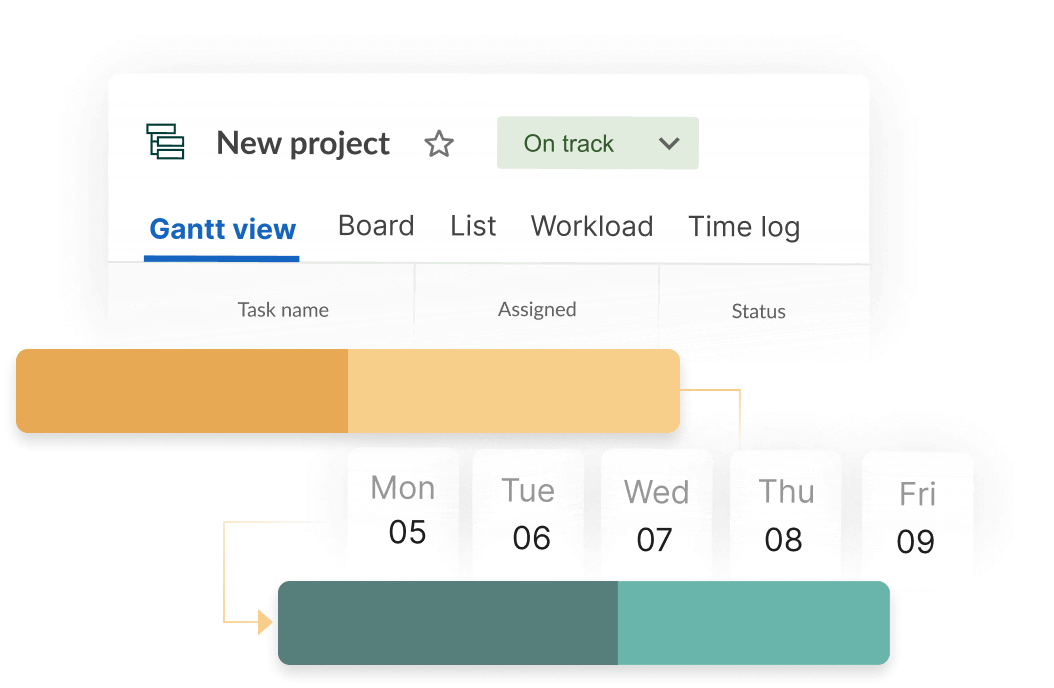 Start free trial
Get free 14-day trial to premium features. No credit card required
You're in a good company
Join 800K+ professional project managers who have already built stunning roadmaps.
Take advantage of the best product roadmap tool to get great results
Try GanttPRO for free to see the difference:
45%

Time saved on management & planning

50%

Rise in teamwork efficiency

75%

Less missed deadlines

36%

Expenses saved on project management
Aggregated figures based on reports received from GanttPRO users
Key features of your best product roadmap tool
Workload

Thanks to the best tool for product roadmap, you can be sure your team's workload is under control.

Check whether someone in your team is underperforming or drowning into the endless task list. With the drag & drop simplicity change working schedules in seconds.

Board view

Aside from a user-friendly Gantt chart, our professional tool for product roadmaps provides a convenient board view.

Visualize your tasks in the form of cards placed in the relevant columns as an extra option for planning. Use the drag & drop feature to move tasks, manage statuses and priorities. If needed, you can get back to the Gantt view at any time.

Collaboration

Collaborate with clarity thanks to the functionality of GanttPRO product roadmap planning tool.

Leave comments, attach files, and use handy templates to simplify communication. GanttPRO will let you know who is making updates, so you will smoothly collaborate to move work forward.

Notifications

Take advantage of notifications in the best tool for product roadmaps designed by GanttPRO.

Using this feature, you'll never miss when any of your team members performs changes. You'll also be notified immediately if someone assigns a task to you or if your task starts soon.

Task relations

Connect your tasks and subtasks using the handy drag & drop feature.Task dependencies in GanttPRO simplify roadmap management, making it clear for the entire team.

Keep your schedules without inaccuracies. By enabling the Auto Scheduling feature, you'll follow any changes in dependent tasks when they occur. GanttPRO will recalculate the dates automatically.

Export

If you work with customers and external stakeholders, you can share your roadmap using the public URL feature. Give your guest users permission to view, comment or edit your tasks and activities.

Our online product roadmap tool also allows for exporting your roadmaps to always have them at hand. Use popular formats like PDF, PNG, XLSX, and XML to export it.

Time logs

Track time your team spends on tasks and generate time log reports with details like tasks, projects, users, dates, and comments.

Always keep this information at hand with the help of your best tool for product roadmaps.

Reports

Generate trustworthy reports with the help of the best tool for a product roadmap.

GanttPRO allows admins and owners to create reports to manage time spent on tasks and budget effortlessly.
Сreate account for free
Best product roadmap tool recognized by leading business software review platforms